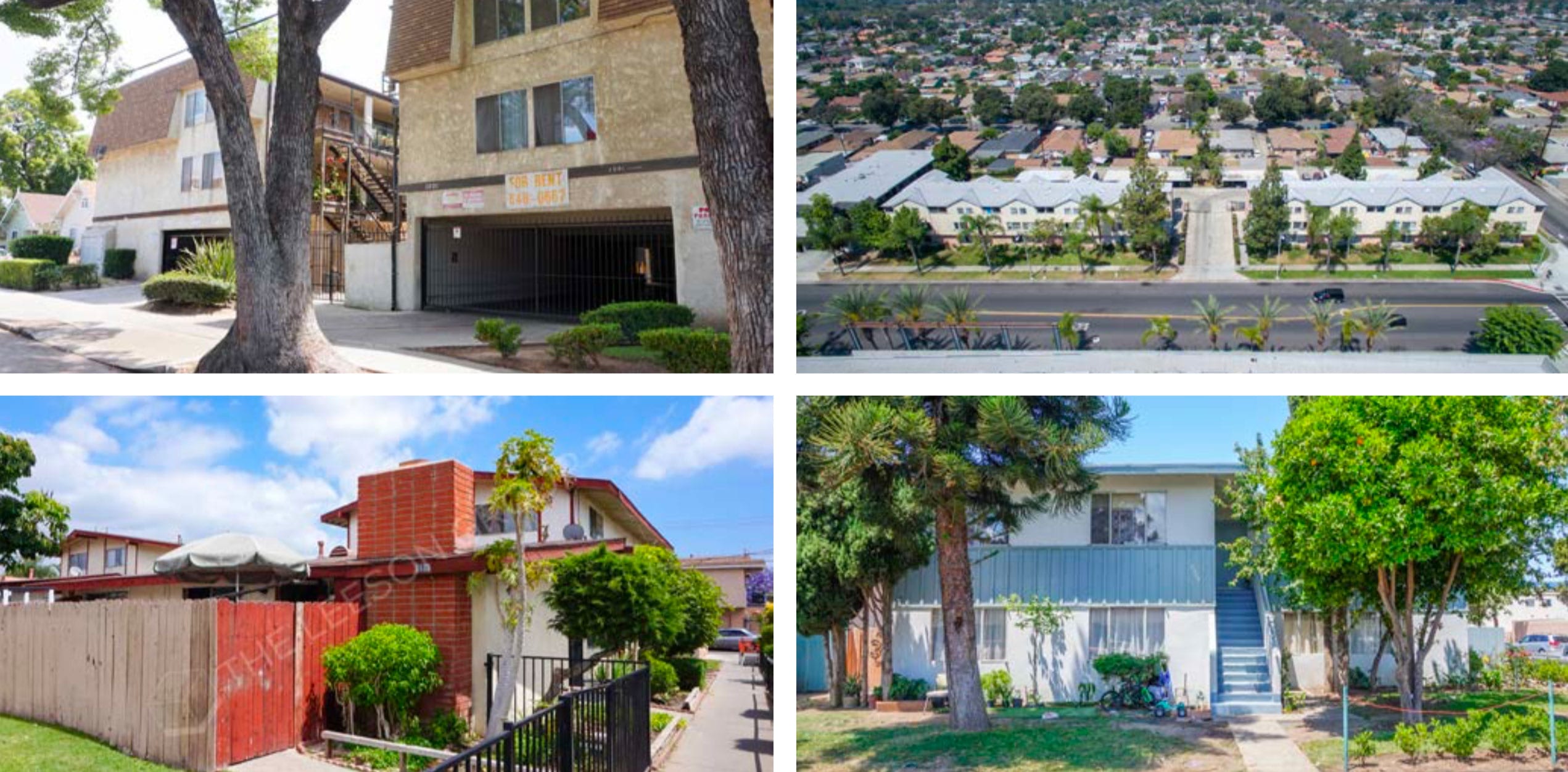 SANTA ANA PORTFOLIO
Sales Price: $12,550,000
Units: 67
Price Per Unit: $187,313
COE: 8/17/2016; 8/25/2016; 8/26/2016
CHALLENGE
The Lesson Group was retained by a family operator to sell their four-building, 70-unit portfolio in Santa Ana. We faced two major challenges: first, to market the properties with in-place rents approximately 75 percent below market levels and second, to meet the sellers' need to execute four concurrent escrows. Beyond the sale of the apartment assets, our next challenge was to identify and exchange the client into passive, less management intensive investments.
SOLUTION
The Lesson Group structured an effective marketing strategy which involved:
» Conducting an in-depth rental survey of comparable rental units to determine the potential up-side, which was a major incentive for interested buyers.
» Maximizing value and broadening buyer exposure by offering the properties for sale individually as well as a portfolio on online commercial real estate marketplaces. This meant that buyers
with targeted alerts for listings that only met one of the portfolio's characteristics would still learn of the full portfolio.
» Connecting with interested buyers who had purchased similar assets, specifically multifamily portfolios, in a bid to find a buyer who would purchase the portfolio with favorable terms for
the Seller's 1031 Exchange.
» Working with an active NNN investment team to target upleg investments while simultaneously working on selling the downleg properties.
OUTCOME
Through our efficient marketing strategy, The Leeson Group was able to complete a smooth portfolio transaction. Through our network of trusted buyers, we brought the seller an offer with very favorable terms for 60 of the 70 units in the portfolio. In addition, we generated offers on an individual and portfolio basis which allowed the seller to confidently shop for NNN upleg assets throughout the sale process. This offer activity, generated by our portfolio specific marketing strategy, as well as our partnership with Deltondo Advisory Group (an investment sales team specializing in NNN assets) positioned the seller to sell their four-property portfolio and 1031 Exchange into out-of-state retail investments. This successful exchange increased their cashflow and simultaneously decreased management responsibilities.